Celtic's Neil Lennon welcomes new good behaviour code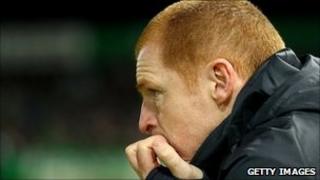 Celtic manager Neil Lennon said coaches and players have been made fully aware of the behaviour required of them following a new code of conduct.
He was speaking to BBC Radio 5 Live on the eve of the 2011/12 season.
The code, which will apply to players, coaches, officials and supporters in Scotland, was drawn up after last season's problems on and off the pitch.
Lennon said: "I'm hoping that last season will be a tipping point as far as football is concerned."
In January a package addressed to the former Northern Ireland international and containing bullets was intercepted at a sorting office in Country Antrim.
In March and April parcel bombs addressed to Lennon, his lawyer and a politician were intercepted by police and in May he was attacked during a match at Tynecastle.
And after a tense Old Firm match in March, Lennon was involved in an angry exchange with Rangers then assistant manager, Ally McCoist.
Lennon said he had considered his managerial future following last season, but it had been his "life-times ambition" to manage a big club like Celtic.
The 40-year-old added that he was able to carry on because of support from his players and the "great strength and inspiration" from the club's supporters.
Police and politicians have been prompted to take action following the 2010/11 Scottish football season.
A new piece of legislation, in the form of the Offensive Behaviour at Football and Threatening Communications Bill, aims to stamp out abusive behaviour from football fans, whether they are watching matches in a stadium, in the pub or commenting online.
It would raise the maximum jail term from six months to five years and is expected to become law by the end of the year.
Although the legislation has not made it through parliament in time for the start of the season, the new code of conduct will be in action from Saturday.
The rules have been agreed by both Celtic and Old Firm rivals Rangers, ministers, footballing authorities and the police.
Lennon told Radio 5 Live presenter Nicky Campbell: "Some people use football as a vehicle to vent sectarianism - some older journalists up here think the problem is incurable and they may be right, but at least I encourage these measures that have been brought in.
"I'm hoping that last season will be a tipping point as far as football is concerned and we don't have to go through those sorts of incidents and hear those sorts of things again."
He added: "Police have visited players from all the clubs to, not warn them, but to give them guidelines on what is acceptable and what is not and the head of referees has done that with the managers and captains.
"We know where we stand and players know where they stand in terms of refereeing and policing - some police have said they will step in if there was a spitting, head butt or punching incident and arrest players.
"Everyone has been left in no uncertain terms the level of behaviour and where the line has been drawn."