Daily Record and Sunday Mail cuts 'extraordinary'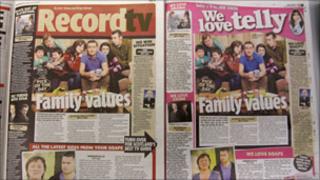 First Minister Alex Salmond has said plans to cut 90 jobs at the Daily Record newspaper and its sister title, the Sunday Mail, are "extraordinary".
The National Union of Journalists have been meeting Trinity Mirror group management to discuss the cuts, announced on Wednesday.
Mr Salmond described the Daily Record as an "institution".
The plan will see non-Scottish content at the Glasgow-based titles shared with other Mirror group titles.
And the group said some magazine and features pages would be handled by the Press Association.
The generation and production of Scottish news and sport pages will remain at Central Quay, in Glasgow.
The staff around the Daily Record building in Glasgow were described as "shellshocked" by one employee. However, there are no moves yet towards industrial action.
'Growing anger'
Journalists held a mass meeting on Thursday afternoon. Some expressed concern that the changes would, in effect, turn the Record into a Scottish edition of the Daily Mirror - a charge denied by the company.
One member of staff said: "There's a growing anger at the dawning realisation that we will be turned into a satellite operation for an English newspaper.
"The prospect of a Scotland coursing towards independence referendums with one of its major papers taking the form of a front and back, news and sport wraparound of a core English paper makes all of us sick to the stomach."
Scottish institution
Speaking during first minister's questions at Holyrood, Mr Salmond said he recognised current pressures on the industry.
But he added: "It does seem an extraordinary level of redundancy that's been contemplated in the Record and Sunday Mail, and, although I haven't always seen eye-to-eye with the Record in terms of its editorial view, nonetheless it's a hugely important Scottish institution.
"The coverage it's able to give, and has given, to Scottish news and current affairs has been an important part of the fabric of Scotland."
Editor-in-chief Bruce Waddell said the changes were designed to "safeguard" the papers for generations to come.
He said the Record and Mail were "not immune from the current economic conditions" and that "the industry is experiencing unprecedented change".
But the National Union of Journalists claimed the proposed job losses were based on a "flawed" business plan.