St Giles' appoints new minister for first time in 40 years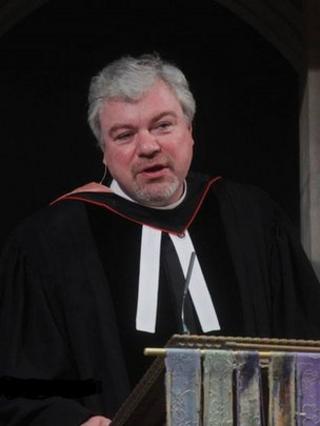 One of Scotland's most historic cathedrals has appointed a new minister for the first time in 40 years.
Rev Calum MacLeod, 46, was voted in by the St Giles' congregation in Edinburgh on Sunday and will move from the Fourth Presbyterian Church in Chicago.
He replaces Very Rev Dr Gilleasbuig Macmillan.
Mr MacLeod, who spent 16 years in his last post in Chicago, said: "I am humbled and honoured to have been selected."
He added: "This historic and important church in the heart of Edinburgh has, I believe, a vital role to play in the life of the city and the nation at this critical time for our country and on into the future.
"Having served a large Presbyterian church in the centre of Chicago for the past 16 years, it is an exciting time to return, with my wife Missy, to my homeland and the Church of Scotland, which nurtured me and trained me for ministry."
Head of staff
Born in Glasgow, Mr MacLeod obtained a BA in economics in 1989 from the University of Strathclyde and a BD in Divinity from the University of Glasgow in 1994.
From 1994 until 1997, he was probationer assistant and then assistant minister of St Columba's Church of Scotland, London, where he was ordained in March 1996.
In 1997, he joined the Fourth Presbyterian Church and served its congregation in a number of capacities, concluding as executive associate pastor and head of staff.
He is married to an American, Missy, and has a daughter, Maddy, who is at university in California.
St Giles' Cathedral, also known as the High Kirk of Edinburgh, is the principal place of worship of the Church of Scotland in Edinburgh.
At the height of the Scottish Reformation, the Protestant leader John Knox was chosen minister at St Giles' by Edinburgh's Town Council.