£1,000 reward in horse stabbing case in Midlothian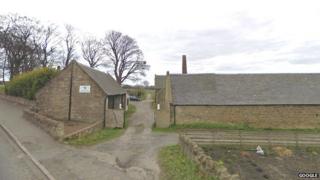 A reward of £1,000 has been offered to help catch the person who stabbed a horse in the shoulder with a metal spike.
The attack happened between 21:45 on Thursday and 09:30 on Friday at Gowkshill Farm in Gorebridge.
The horse needed an operation and is now recovering.
The People for the Ethical Treatment of Animals (Peta) charity has put up the reward for information leading to an arrest and conviction.
Sgt Hamish MacLean, of Police Scotland, said: "The vet who treated the horse said the angle of the spike suggested it was not an accident.
"We have contacted all the farmers in the area, briefed all officers and given advice to youth workers and antisocial group workers.
"People feel passionate about their horses and have a special attachment. They are not just a farm animal, so we are aware of the impact of such a crime, not only on the animal but also on the owner.
"This is quite an unusual crime and we would appeal for witnesses."