Edinburgh trams: Resident calls to stop PA system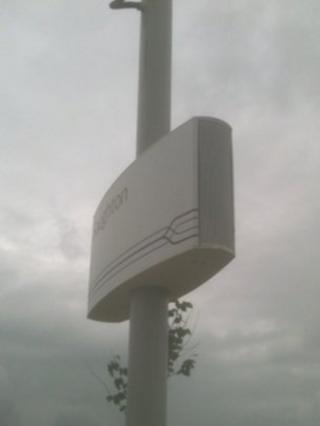 Homeowners living near an Edinburgh tram stop are calling for its PA system to be switched off after it could be heard several streets away.
Residents living near the Saughton tram stop said they could hear the announcements inside their houses, hundreds of metres away.
They said they had been left "shocked" by the "noise pollution" which they said they had not been warned about.
The trams started operating in the city on Saturday.
On Tuesday afternoon residents reported the PA system making announcements every minute during a tram delay.
Penni Collings, 50, from Carrick Knowe Road, told the BBC Scotland news website, how she could hear every word from inside her house 200 metres from the tram stop.
The PhD student said: "There are 16 PA systems at the tram stop, eight on each side of the platform, which are deafening.
"Today they are blaring out instructions for the One Direction concert and its overwhelming how loud it is.
"At my house I can hear every word as can residents in houses much further away.
"It goes off at least four times an hour. I feel very shocked about it as there was no warning from tram officials that we were going to be subjected to any noise pollution.
"It really is a ridiculous situation and one we cannot comprehend.
"It needs to be switched off."
She said she had complained to the council. She added that signs explaining instructions on how to buy a ticket for the tram should replace the PA system.
At least eight people have complained on the Carrick Knowe residents' Facebook page.
One resident said: "I woke up on Saturday morning thinking my bed was in an airport arrival terminal."
Another woman compared it to 1980s TV sitcom Hi-de-Hi in which holiday camp visitors are blasted awake with a morning announcement.
An Edinburgh Trams spokesman said: "We have received some comments relating to tram stop public announcements. We are reviewing how often these announcements are made and when they are stopped in the evening."