'Movie map' highlights film locations around Edinburgh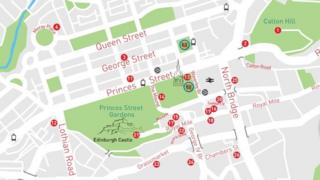 A map will allow film fans to visit the Edinburgh locations used in Hollywood blockbusters.
The "movie map" features 32 locations around the city which were used in 21 cinema releases.
The map has been designed to appeal to movie fans and those interested in the "behind the scenes" aspect of film.
It also includes a film events diary, detailing the many festivals, workshops and events taking place in the city during the year.
Some of the films which feature on the map include last year's Sunshine on Leith, The Da Vinci Code, Trainspotting and Chariots of Fire.
The release of the map has been timed to coincide with This Is Edinburgh's "Film in the City" campaign which culminates in June's Edinburgh International Film Festival.
John Donnelly, chief executive of Marketing Edinburgh, said: "The magic of standing in a street immortalised on film is sure to appeal to residents and visitors alike.
"Edinburgh has always been a beautiful city to see on foot and the release of this map will give people yet another reason to wander around and explore, attracting people to places they might not have otherwise found or providing a fresh perspective on much loved locations."
An online page which allows move fans to download a copy of the map will be made available on Wednesday.