Castle Mills building receives £5m Heritage Lottery grant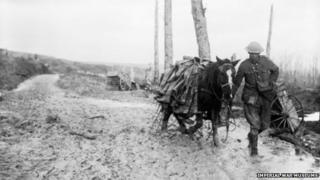 The birthplace of the modern Wellington boot is to be turned into an arts centre with a Heritage Lottery Fund (HLF) grant of almost £5m.
The former headquarters of the North British Rubber Company, at Castle Mills in Edinburgh, is the last standing reminder of the city's rubber mill.
India rubber was used to create wellington boots for soldiers in the trenches in World War One.
The grant aims to try to regenerate the area as a creative hub in the city.
Built in stages between 1856 and 1897 beside the Union Canal, Castle Mills has a strong industrial heritage which played a central role in Edinburgh's development and economy.
'Empty and neglected'
At its peak, the North British Rubber Company employed 8,000 people and covered a 20 acre site. Even as late as the 1950s, it was the city's largest industry employing over 3,000 people.
Now on the Buildings at Risk register, the Fountainbridge plant was famous for producing modern car tyres and pioneering the use of India rubber to make wellington boots, supplying 1.2m pairs to soldiers in the WW1 to help them deal with the flooded conditions of the trenches.
The grant from the Heritage Lottery fund will be used to build turn the listed building into a modern visual arts centre incorporating a printmakers, art centre, cafe and learning centre.
Colin McLean, head of the Heritage Lottery Fund, said: "Castle Mills was once at the heart of a thriving community but now stands empty and neglected and whilst much-loved, its restoration presents huge financial challenges.
"We are delighted to be able to help unlock its potential so that it can once again be a centre for new ideas and productivity and a catalyst in the regeneration of Fountainbridge."
HLF also awarded a grant of £500,000 to assist Edinburgh Printmakers in developing the project to the next stage of the application process.