Appeal after cat dumped in Midlothian laundry bin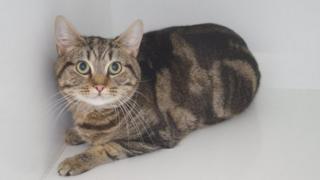 Animal welfare officers are appealing for information after a cat was left in a laundry bin in Midlothian.
The Scottish SPCA was alerted on Saturday when the male tabby cat was discovered on McNeill Avenue, Loanhead.
The cat is now in the care of the Scottish SPCA's Edinburgh and Lothians Animal Rescue and Rehoming Centre, where he has been named Rannoch.
Connie O'Neill, of the Scottish SPCA, said: "Rannoch had been cruelly dumped next to wheelie bins outside a house."
She added: "There were some blankets inside the bin but no food or water had been provided and we're keen to identify the person responsible for leaving him.
"Our officers have dealt with a spate of cat abandonments throughout Scotland since the end of last week and this is of great concern.
"We can't stress enough that this is completely unacceptable, as well as an offence."