Legal battle over Dunfermline Press boss Deirdre Romanes' will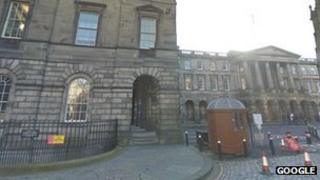 The sister of a millionaire Fife newspaper boss is challenging a will drawn up just days before she died of cancer in Edinburgh.
Elizabeth Smyth is accusing her sister's ex-husband, Iain Romanes, of persuading Deirdre Romanes to change the will governing her £4.6m estate.
Mrs Smyth has claimed Mrs Romanes did not know what she was doing due to being on "heavy painkillers".
A will drawn up two years earlier favoured Mrs Smyth.
Mrs Smyth, who lives in Ireland, has already won a court decision blocking the sale of prestige property in Edinburgh's New Town until the issue of the wills is resolved.
Secret illness
On Tuesday, Mrs Smyth began conducting her own case at the Court of Session in Edinburgh.
She wants judge Lord Glennie to set aside the later will because Mrs Romanes "lacked capacity".
The court papers claim Mrs Romanes was weak and facile and easily imposed upon, allowing former husband Mr Romanes and three other individuals, named as her executors, to get their way.
If the second will stands, the bulk of Mrs Romanes' estate will be ploughed, through a trust fund, into the Dunfermline Press.
Mr Romanes, who left his wife for another woman, continued to be a director of the company after the marriage broke up in 2001 and holds a block of shares.
Mrs Romanes died in May 2010 at the age of 60, after a long battle with cancer which she had kept secret - even from family and close friends.
For two years before her death the newspaper had been in financial trouble and managing director Mrs Romanes was said to be determined that it should keep going.
The second will which instructed a payment of £3m into Mrs Romanes' Liferent Trust was seen as a way of doing this.