Appeal after watches stolen in armed raid on Edinburgh pawn shop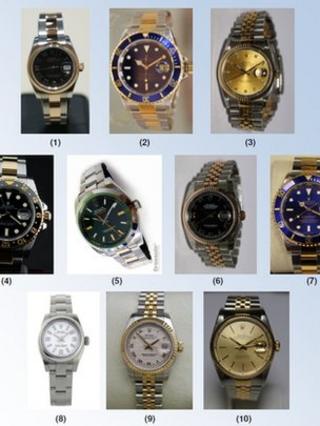 Police have released images of watches stolen during an armed robbery at a pawn shop in Edinburgh.
Two men, one armed with an axe, walked into Duncanson and Edwards on Queen Street at about 17:00 last Wednesday before smashing up display cabinets and grabbing a quantity of jewellery.
Among the items taken were 11 watches and various rings.
Detectives believe the stolen goods will be sold off and have appealed to second-hand retailers to be wary.
Both were wearing identical light grey hooded tops with a black chequered pattern and black sleeves.
One of the men, who was seen carrying an axe, was described as about 6ft, wearing a dark-sleeved top underneath the hooded top and a baseball cap with a light blue peak. The pair made off on bikes.
Det Sgt Bob Richardson said: "It is likely that those responsible for this robbery will attempt to sell the stolen jewellery on, and so we want other second-hand retailers, collectors and members of the public to be vigilant if anyone approaches them with items matching these.
"Our inquiries are continuing to trace the suspects and I would ask anyone who recognises their description or has information that can establish their whereabouts to contact police immediately."