Corstorphine Hill murder trial told of 'voices' claim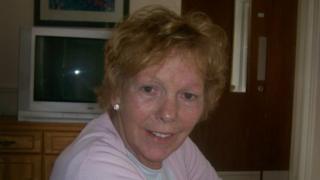 A murder trial has been told a man accused of killing his mother said to a friend that he had been hearing voices in his head.
Mohammed Razaq said the conversations with James Dunleavy took place before Philomena Dunleavy was found dead.
Mr Dunleavy, 40 - also known as Seamus Dunleavy - denies murdering his mother, Philomena, 66, from Marino, Dublin.
He also denies cutting off her head and legs and taking her, in a suitcase, to be buried on Corstorphine Hill.
Mr Razaq, who used Mr Dunleavy's bedroom to pray when he could not get to his local mosque, said there was a bond between them "like brothers".
He had a set of keys for Mr Dunleavy's flat, which was above his shop in Edinburgh's Balgreen Road.
'Angry and agitated'
Mr Razaq said their friendship broke down after Philomena Dunleavy came to visit her son in April 2013.
He witnessed a conversation when Mr Dunleavy was angry and agitated because his mother had separated from his father and moved in with another man.
When he tried to visit the following evening, Mr Dunleavy would not let him in.
"I put the key into the door of the house. I had opened the door barely a foot and James stood in the house and blocked it with his foot."
Mr Razaq told the trial that Dunleavy said: "My mum is not well. She is sleeping. You cannot come in tonight."
The shop manager added: "He had never done that before. I was taken aback, slightly upset.
"I thought maybe I had done something the previous night which had upset him and our friendship was at risk."
'Dishevelled'
He added that Dunleavy looked as though he had not slept: "It was odd to me. His appearance is normally smart but he looked very dishevelled."
Mr Razaq was then told that Mrs Dunleavy had returned to Dublin - without saying goodbye to her son.
On a later visit to Mr Razaq's shop, Mr Dunleavy stayed talking until closing time.
Mr Razaq told the court: "His opening comment to me was 'I might be evil. I might be hearing voices in my head.'"
Questioned by defence QC Gordon Jackson, Mr Razaq agreed that, although there had been a "lively discussion" between Mr Dunleavy and his mother about her marriage break-up, there had been no threat of violence.
Earlier, the court heard how experts uncovered a dismembered body in a shallow grave.
The jury at the High Court in Edinburgh was shown time-lapse images of the forensic work.
Forensic archaeologist Dr Jennifer Miller told the court the dead woman looked as though she had been given "a Christian burial" at the site, on Edinburgh's Corstorphine Hill.
"Everything was facing east," she said. "In an archaeological context that would suggest a Christian burial. It is facing the rising sun."
Sandy soil
Dr Miller, who has 19 years experience in forensic archaeology, said the grave - no deeper than 46cm (1ft 6in) would have been difficult to dig.
Under a top layer of sandy soil the ground was so hard it could break a spade, she said.
The archaeologist also told the trial that the dead woman could have eaten a curry, possibly eight hours before she died.
Dr Miller said she was later given a jar of caraway seeds seized by police from a flat in Balgreen Road in Edinburgh.
"I examined the seeds and concluded they were of the same type as those found in the stomach contents," she told the court.
Mr Dunleavy is accused of battering his mother to death between 30 April and 7 May last year.
He is also alleged to have attempted to defeat the ends of justice by trying to cover up the alleged murder and destroy evidence.
At the time, Mr Dunleavy was living in a flat Edinburgh's Balgreen Road.
'Blunt force trauma'
The murder charge alleges that it was there that he inflicted "blunt force trauma" by means unknown, compressed his mother's throat and cut off her head and legs with a blade and something like a saw.
A second charge accuses Mr Dunleavy of pretending his mother was unwell and had returned to Ireland.
The charge further alleges that he put his mother's torso, severed legs and head into a suitcase and took the dismembered body to Corstorphine Hill where he buried her.
Prosecutors also claim that Mr Dunleavy vacuumed and washed his flat to remove blood stains and torched a bed and mattress. He also, allegedly, got rid of her mobile phone and one he used himself.
Mr Dunleavy denies all the charges.
The trial at the High Court in Edinburgh continues.