Strike closes National Museum of Scotland on Boxing Day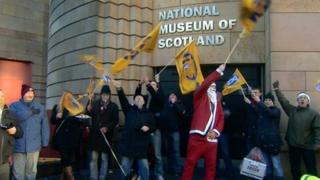 A strike has resulted in the closure of the National Museum of Scotland in Edinburgh.
Members of the Public and Commercial Services Union formed a picket line outside the visitor attraction in a dispute over weekend payments.
Union branch organiser Robert Burns said the action was "the start of a long campaign".
The museum would normally open from 12:00 until 17:00 on Boxing Day. It is expected to open as normal on Friday.
Last week museum staff voted overwhelmingly in support of strike action in a long-running dispute over weekend allowances.
Strike action was supported by 96% of Public and Commercial Services Union members who voted.
Mr Burns said all new staff should be given enhanced payments for weekend working, payable to other staff.
"This was an agreement with the museum that they reneged on in January 2011.
"Nobody coming to the museum now gets any extra payments for the damage to their social life and their family life when working weekends."
Earlier, a National Museum of Scotland spokesman said: "These circumstances are entirely outside of our control and we apologise for the inconvenience caused to our visitors, particularly at this time of year."