Work to start on Edinburgh's £200m The Haymarket development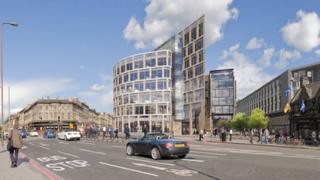 Work on a £200m Edinburgh city centre development, The Haymarket, which includes a hotel, offices and shops, is set to start within weeks.
The four-acre site next to Haymarket station is being developed by Interserve and Tiger Developments.
Network Rail has now agreed to allow preparatory works to start in December on the railway tunnels under the site.
It is hoped disruption to rail users will be kept to a minimum, with works taking place at night for about a year.
Car park closure
An archaeological dig will start above ground on the site in February 2014 which will involve the permanent closure of the NCP car park.
The first phase of the car park closure, about one-third of the total area, will begin in December 2013 to allow work on the existing tunnels to start.
On-site construction is set to start in spring next year, with the first buildings' phase expected to be completed in 2016.
David Westwater, Interserve's development director, said: "This agreement with Network Rail to start work on the site represents a significant milestone for one of Edinburgh's last remaining gap sites.
"We are looking forward to completing the underground works during 2014, allowing for above-ground construction to start in early 2015."
165-bedroom hotel
The construction project will be worth £150m.
The Haymarket has full planning consent for 404,000 sq ft of office accommodation and 60,000 sq ft of commercial and leisure space, together with a 165-bedroom hotel and a 320-space underground car park.
Tenants already signed up for the initial development phase include Q Park, Tesco and apartments firm Staycity.
Food chains Prezzo and Pret A Manger are already committed to the second phase, together with advanced talks with other occupiers for a further 70,000 sq ft of retail and office space.
Simon Fox, Tiger development director, said: "The proposals for a mix of leisure, retail and office space linked by open public spaces will act as a catalyst to regenerate the commercial heart of the area as well as create jobs."