Three teenagers dead and one injured after crash at Tyninghame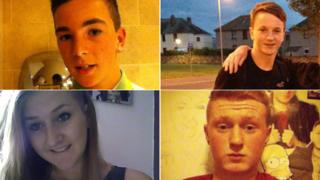 Three teenagers have died and another has been injured in a crash in East Lothian.
Jenna Barbour, 18; Josh James-Stewart, 16; and David Armstrong, 15, were fatally injured when the car they were travelling in hit a wall at Tyninghame.
The incident happened on an unclassified road at 20:25 on Monday.
Robbie Gemmell, 16, is being treated at Edinburgh Royal Infirmary. Police have appealed for witnesses to come forward.
All four were in a Peugeot 206 which left the road and hit a wall.
Jenna Barbour had just left Dunbar Grammar School after completing sixth year.
The three male teenagers were all 5th year pupils at the school.
A police spokesman said: "Tragically, this incident has resulted in three young people losing their lives and we are currently trying to establish exactly what has happened.
"Any motorists who were on the road at the time and have information that can help with our investigation is asked to contact police immediately."
Shamin Akhtar, East Lothian Council's education and children's wellbeing spokeswoman, said the school was mourning the loss of the three teenagers.
She said: "Dunbar is a very close and strong community and very few young people at school will not have known at least one of the young people involved.
"A special assembly was held this morning with S5/S6 to reflect on what had happened and to offer comfort and support.
"Teachers across the school are supporting young people and counselling services are also on hand."
She said students had been given the chance to go home, as long as someone would be there to support them.
"However, many have opted to stay to seek support from their friends and staff," she said.
"The grief will be felt for a long time and at the moment the school is focusing on supporting its young people and the families of those who died, and on sending our best wishes and thoughts for the recovery of the young person who survived the accident."