Mystery book sculptures to go on display at the National Library of Scotland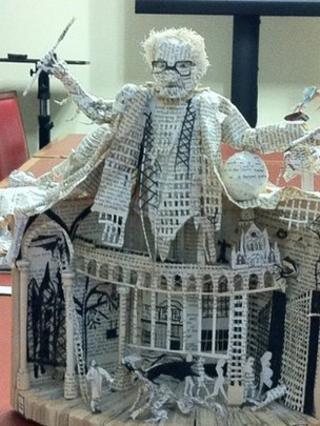 Five paper sculptures, inspired by classic Scottish stories and left in secret locations, are to go on display in Edinburgh.
The creations were made by a mystery artist whose identity remains a secret.
The same sculptor left a series of the paper artworks in Edinburgh in 2011.
The National Library of Scotland received one of these, based on Ian Rankin's book Exit Music, which is now on permanent display in its foyer.
It will be joined by the five others, starting on the opening day of this year's Book Week Scotland on Monday.
They will then be on display at the library for a year.
Martyn Wade, National Library of Scotland librarian, said: "The story of these mysterious sculptures has received worldwide media attention and fascinated people across different continents.
"We are delighted to be able to display the five Book Week Scotland sculptures along with the one that was given to the library. They are works of art in themselves and well worth seeing."
The Scottish Book Trust, which organises Book Week Scotland, is loaning the sculptures to the library until next November.
Marc Lambert, Scottish Book Trust's chief executive, said: "During last year's Book Week Scotland we generated a lot of excitement around the sculptures by creating a national treasure hunt, with people racing across the country to be the first to discover the sculpture of the day.
"NLS has had the great idea of bringing all the different sculptures together in one exhibition, and now everyone can see the beautiful works of art that we hope encouraged more people to read.
"There are similarly exciting things happening during Book Week Scotland 2013, including the unveiling of major new art installations around the country, so check our website and get involved."