World Scotch Pie judging takes place in Fife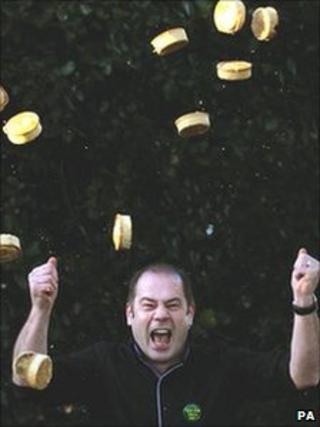 Judging has taken place to find the winners in the World Scotch Pie Championships in Fife.
Butchers and bakers from across Scotland had their best culinary efforts assessed by an expert panel in Dunfermline.
The maker of the best Scotch pie in the world, now in its 15th year, will be announced in January.
Competitors were also invited to enter their best sausage rolls, bridies, specialty savouries and football pies.
There was also a new category this year - best apple pie.
Former Bay City Rollers front man Les McKeown has been named as this year's guest judge.
He said: "I was honoured to be asked to join the panel of judges for this iconic competition.
"The scotch pie is an icon and is something I look forward to coming home to, so in this category in particular we are looking for something really special that stands out from the crowd."
The competition is run by the Scotch Pie Club.
Winners will be announced at an award ceremony in January.