Major dig under way at Leith Fort in Edinburgh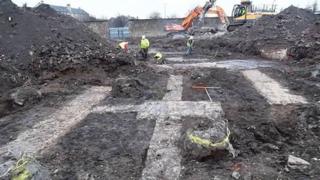 A major excavation of Leith Fort in Edinburgh is to get under way in a bid to unearth artefacts from the early 19th Century.
The fort was originally constructed in 1780 to defend the port of Leith against the American Navy.
Stormy weather had scuppered an attack by John Paul Jones, a Scots-born captain who fought for American independence, a year earlier.
The fort was designed by architect James Craig.
He was also behind Edinburgh's New Town.
The fort was later increased in size to accommodate French prisoners captured during Britain's war with Napoleon, and remained as a military base until the mid-1950s when most of it was demolished to make way for housing.
Fort House, an estate on the site, was demolished last year.
Archaeologists are now hoping to find out more about the history of the area before the fort was built.
The dig will see top soil removed before excavation machines are used to unearth buried foundations.
Public "dig days" will also be held on 17 and 24 November.