St Andrews University hailed in annual Good University Guide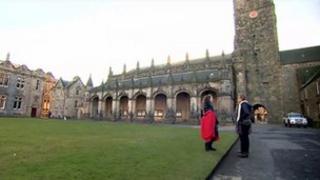 St Andrews University has been named the best in Scotland and fourth best in the UK in an annual guide.
The UK ranking equals St Andrews' best ever spot in the Good University Guide, which is produced by The Times and The Sunday Times newspapers.
It comes just after the institution celebrated its 600th anniversary.
The Fife university is on the cover of the UK and Scottish editions of the guide, which has drawn up university league tables since the 1990s.
Heriot-Watt University was placed fourth in Scotland, moving up above Aberdeen and Strathclyde and also being placed above Dundee.
£484m per year
Professor Louise Richardson, St Andrews University's principal, said: "The timing of this announcement, as we reach the conclusion of our 600th anniversary celebrations, is auspicious.
"Luck, however, has absolutely nothing to do with the achievement itself.
"It is due entirely to the talent and dedication of all who work and study here, our academic schools, our service units and our students, who are the ultimate ambassadors for the unique blend of research-led teaching which is at the heart of the St Andrews mission."
Earlier this year, an economic assessment found that St Andrews University generated more than £484m per year for the Scottish economy and supported more than 9,000 jobs.
The Universities of Edinburgh and Glasgow were ranked 22nd and 25th on the UK league table respectively.
The Universities of Aberdeen, Strathclyde and Dundee were also listed in the UK top 50.