Ewan McGregor in surprise visit to hospice kids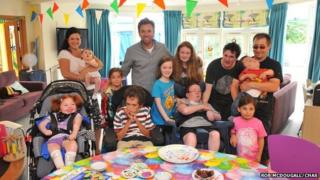 Star Wars actor Ewan McGregor has visited Rachel House Children's Hospice in Kinross.
Mr McGregor is a long-term supporter of the Children's Hospice Association Scotland (Chas).
He said: "There's so much fun and laughter about the place and you can see how important it is for the children and their families."
The actor was recently appointed an OBE for his services to charity and drama.
He made the journey to the hospice on his motorcycle with dad Jim accompanying him.
They spent time meeting children and their families and joining in with some of the circus-themed activities.
Before he left, the actor, who played Obi-Wan Kenobi in George Lucas's Star Wars prequels, said: "Rachel House will always have a special significance to me."
Gill Levy, CHAS relationship manager, said: "We've had lots of excited children, siblings and parents who were really looking forward to meeting Ewan.
"The look on their faces when he walked in was priceless. We can't thank Ewan, and his parents enough for taking the time to come and visit us again today.
"It means so much to everyone at Rachel House and it will be such a special memory for them to cherish forever."