Women golfers brush off single-sex clubs row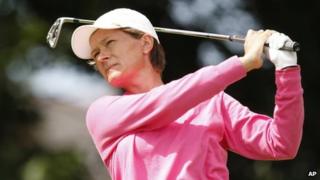 Women's golf is facing bigger problems than the issue of single-sex clubs, according to the governing body for women's and girls' amateur golf.
The Ladies Golf Union said the number of female golf members had dropped by about 16% since 2004/5 and could see a further 6% drop by the end of the year.
With the Open under way at Muirfield, there have been fresh calls for action to be taken against men-only clubs.
Chief executive Shona Malcolm said that issue was well down the pecking order.
Keen golfer First Minister Alex Salmond refused an invitation to attend the Open Championship due to his opposition to the men-only membership rules of the Honourable Company of Edinburgh Golfers at Muirfield.
'Hard push'
In a press conference on Wednesday, The Royal and Ancient Golf Club (R&A) chief executive, Peter Dawson, said it would have another look at the subject after the Open, but said it would take a "hard push" for the R&A to change its position.
"It's just for some people a way of life that they rather like," he said.
"Realistically that's all it is. You can dress it up to be a lot more if you want."
Speaking to BBC radio's Good Morning Scotland programme, Ladies Golf Union's Shona Malcolm said it was "not the biggest issue facing ladies golf by any manner of means".
"Participation numbers are dropping, but it's not at all to do with single-gender clubs.
"It's not an issue that's ever been raised with me in a golf club".
With regard to single-sex clubs she echoed the R&A's position, saying the right of freedom of association was important.
"I think it's an evolutionary process whether it takes 10 years or if it takes five years.
"I think it's better coming from within the sport than being imposed from outside it."
She added that the Ladies Golf Union aimed to take their British Championships to the best clubs in the UK and that this year that included men-only Prestwick Golf Club.
"It's about another way to influence thinking," she said.
"If we go into these clubs it might get the gentlemen members thinking in a different way about having women around the place."
Mr Salmond has said it is "indefensible" in the 21st Century not to have a golf club that is open to all.