Police hail drug dealer convictions in Fife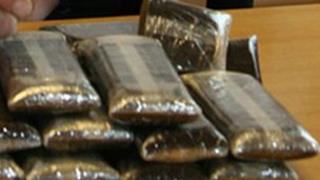 Police Scotland has welcomed the conviction of two Fife men, as well as a man and woman from Lancashire, who were involved in the supply of drugs.
Kirsty Watson was found with cannabis worth £500,000 in her car in Fife. She earlier admitted supplying the drug.
Sean Murphy, 42, from Crombie, earlier admitted supplying cannabis. Craig Maxwell, 29, from Dunfermline, pled guilty to supplying amphetamine.
Mohammed Nurien, was found guilty of supplying cannabis in May 2012.
Illegal activity
Watson, 24, from Preston, said when drug squad detectives moved in on her and her co-accused Murphy at Townhill country park in Dunfermline she was "shocked".
At the High Court in Edinburgh she claimed she believed she was moving a large amount of money from illegal activity.
The former social services professional said she was to be paid £500 for the delivery and get her petrol money.
Watson, from Preston, said she was a social worker in Lancashire at the time she acted as a drugs courier in May last year, but her employment was terminated.
She said a "mutual friend" had contacted her and asked her if she could move some money for Nurien who she had met the previous month at a bar in Manchester.
'Magic' bars
Advocate depute Adrian Cottam told the court police had received information that a delivery of drugs was to be made in Dunfermline from England.
Mr Cottam said 400 bars of cannabis resin, stamped with the word "Magic", were recovered from the boxes found in Watson's car.
More than three kilos of amphetamine was found following a search of Maxwell's van which had a value of about £40,000.
Lady Stacey remanded all four in custody and called for background reports ahead of sentencing later this month.
Det Supt Stuart Johnstone said: "The targeting of those involved in drug dealing and organised crime is a very high priority for Police Scotland.
"The misery caused to local communities by this form of criminality cannot be understated, and Police Scotland is fully committed to use all available resources to target, disrupt and detect those involved.
"As a result of this operation over £500,000 of controlled drugs were removed from the streets of Fife, and I want this to serve as a warning to those involved in the supply of drugs within our communities that such criminal activities will not be tolerated."