Edinburgh is star attraction of new Cluedo board game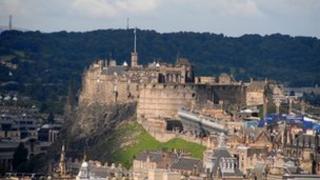 Edinburgh is to be the subject of a new version of the board game Cluedo.
The city has beaten off opposition from nine others to secure the privilege following the successful launch last year of a London version.
The game will feature six brand new characters and nine themed locations while the weapons remain the same.
The company behind the game is making an appeal to the Scottish public to put forward ideas on which characters should fill the board.
Cluedo manager at Winning Moves, Dan Taylor, said: "The characters will reflect the essence of Edinburgh. Potential murder settings could be the castle or Holyrood.
"The board is a blank canvas at the moment. We would like to hear from the great Scottish public on how this board should look. We are extremely excited about - and honoured at - producing it. A big congratulations to Edinburgh for bumping off the opposition!"
A one-week public email vote line is being set up and anyone can send their suggestions on what to fill the board with.
Councillor Frank Ross, Edinburgh City Council's convener of the economy committee, said: "This really is great news for Edinburgh as the buzz around choosing the characters and the launch of the game will be a welcome reminder to potential visitors everywhere that Edinburgh really is a world-class tourist destination."
The popular murder mystery board game involves players trying to figure out the three main facts of a murder - who did it, where it took place, and the weapon used.
New characters
In the Edinburgh version regular characters like Professor Plum and Reverend Green will be replaced with six central characters linked to the city.
But the traditional murder weapons will remain.
Exactly who the characters will be will be left up to a public vote.
Graham Barnes, a spokesman for manufacturer Hasbro, said possible players could include Rebus crime writer Ian Rankin, 53, Skins actress Freya Mavor, 20, or even disgraced banker Fred Goodwin, 54.
Edinburgh beat Dublin, Liverpool and Glasgow, among others, to become the setting for the new game.
The city already has its own version of Monopoly.
Cluedo's history dates back to 1946 when it was invented by a solicitors' clerk from Birmingham.
Now the game, where everyone falls under suspicion, is played across the globe and has been depicted in films, on TV and on stage.
It has 324 possible solutions.
Cluedo: Edinburgh Edition will be available from November and those wanting to suggest destinations and characters can email them them to cluedo@winningmoves.co.uk.