Fife Council issues shellfish toxin warning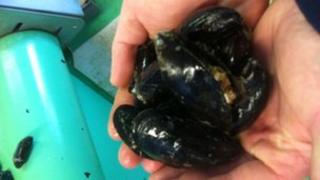 Members of the public are being advised not to eat clams and mussels from two areas of Fife, after high levels of toxin were found in shellfish.
Fife Council said routine sampling found evidence of Paralytic Shellfish Poisoning, commonly known as PSP, in surf clams from Anstruther and Pittenweem.
The fisheries have temporarily been closed with immediate effect.
Warning signs have been placed in the affected areas.
Steps have also been taken to trace and destroy affected shellfish.
Although only surf clams are included in the site closures, the public are being warned that other species such as mussels are also likely to be affected and should not be picked from beaches in the area.
The council also warned that care should be taken to carefully remove the guts from crabs before eating to remove the toxins which may have built up there.
PSP symptoms
Symptoms of PSP usually start with tingling of the lips and tongue, which can begin within minutes of eating affected shellfish.
This may be followed by tingling of fingers and toes, loss of control of arms and legs and difficulty breathing or swallowing.
If high levels of the toxin are eaten, paralysis of the muscles used for breathing can in extreme situations lead to death, if medical help is not sought.
Roy Stewart, from Fife Council, explained that PSP was caused by naturally occurring algal blooms which can extend over considerable areas.
He said: ''The presence of PSP in shellfish occurs from time to time, particularly during the summer months. It is essential that until levels return to safe levels, none of these shellfish are eaten."
Mr Stewart added that contact had already been made with the small number of commercial fishermen who harvest the surf clams in the affected areas and their associated buyers.
The increased toxin levels were picked up during routine monitoring by the Food Standards Agency.
Further samples are being taken.
If two consecutive tests, taken at least seven days apart, show levels have fallen below the statutory limit, the notices will be lifted and the fisheries area will be reopened.