Corstorphine Hill body: Images of 'distinctive' rings released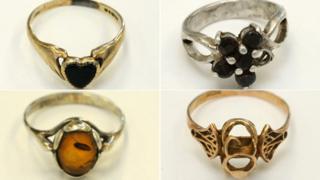 Police investigating the discovery of the dismembered remains of a woman in Edinburgh have released images of four rings she was wearing.
They included two distinctive gold rings, which were set with precious stones - one in a daisy shape and the other an Irish Claddagh ring.
The woman's body was found in a shallow grave on Corstorphine Hill on 6 June.
Despite an "encouraging" response to appeals, police have not yet been able to identify the woman.
Officers have been in touch with Europol as they widen their efforts to trace the woman's identity.
She was described as being white, between 32 and 60 years old and about 5ft 2in tall. She had fair hair and expensive-looking cosmetic veneers on her teeth.
'Real clue'
Police are treating her death as murder.
The heart of the Irish Claddagh ring was facing towards the body, which traditionally means the wearer has a partner.
All the rings are old but are not thought to have significant value.
Detectives also said they have followed up six names given to them but have eliminated all from their investigation.
Det Ch Insp Keith Hardie said: "Responses to previous appeals for information on this woman's identity have been encouraging.
"While we are following up calls and information from all over the UK, we have still to make a real breakthrough in identifying the victim.
"As I have previously said, distinctive rings found with the woman may provide a real clue to her identity.
"I would ask anyone who recognises these rings, or who has seen someone they know wearing rings like these, to add that detail to the other things we know about the woman.
"We have followed up more than 80 calls and, while we are extremely grateful for the information provided, we still await that real gateway call."