A Satire of the Three Estates performed at Linlithgow Palace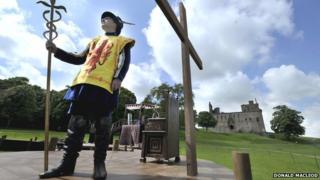 A historic Scots play not performed in its original format since 1554 is to be performed in the grounds of Linlithgow Palace in West Lothian.
Linlithgow Palace Peel will return to the 16th Century for a full-length production of Sir David Lyndsay's drama, A Satire of the Three Estates.
The play, directed by Gregory Thompson, will be performed by professional actors, including Tam Dean Burn.
The show is being performed on Friday, Saturday and Sunday.
Other professional actors include Liam Brennan, Jimmy Chisholm, Alison Peebles and Gerda Stevenson.
'Fantastic experience'
Culture Secretary Fiona Hyslop said: "To see A Satire of the Three Estates performed in the stunning setting of Linlithgow Peel will be a fantastic experience.
"The play is one of the finest examples of the use of Scots language and many of its themes are still relevant today.
"It looks at Scottish society and national identity in the 16th Century and asks how Scotland should move forward."
There will also be hour-long interlude performances based on the original play performed in the Great Halls at Linlithgow Palace on Tuesday and Stirling Castle on Thursday.