Pensioner charged over unlicensed sale of weapons in Leith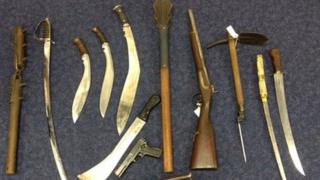 A 78-year-old man has been charged after weapons worth about £40,000 were seized from a shop in Edinburgh.
Around 200 items, including guns, swords, and daggers were recovered in the operation which was targeting the unlicensed sale of weapons.
Police had been tipped off that the shop in Leith was selling goods without the appropriate licence.
At another search at an Edinburgh business address on 30 April more than £100,000 worth of weapons were seized.
Chief Superintendent Mark Williams said: "Bladed weapons and firearms are a blight on our communities and the items removed from this store have the potential to inflict serious harm on the public.
"All of these weapons should only be sold by vendors with the appropriate licence and anyone found to be trading without the necessary permissions can expect to be visited by police."