Helmand blast soldier funeral held in Edinburgh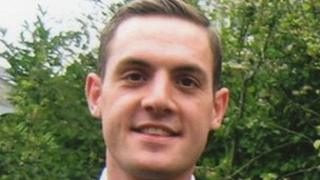 The funeral of one of three soldiers recently killed by a roadside bomb in Afghanistan has taken place in Edinburgh.
Mourners paid their last respects to Private Robert Hetherington, 25, from Edinburgh, at a non-military service at Canongate Kirk, on the Royal Mile.
He died with Corporal William Savage and Fusilier Samuel Flint.
Their Mastiff armoured vehicle hit an improvised explosive device on a routine patrol in Helmand on 30 April.
Their bodies were brought back to the UK last week.
Pte Hetherington's service is the first to be held of the three.
At the request of the family, it was a private event to which no members of the media were allowed access.
It was being followed by an interment at a cemetery in Dumfriesshire.
In a funeral notice published earlier this week, Pte Hetherington was described as a "dearly loved son of William and June and much loved brother of William, Annie, Margaret and Tom".
The military funerals of Cpl Savage, 30, from Irvine, Ayrshire, and Fusilier Flint, 21, from Blackpool, Lancashire, are expected to take place next week.
Pte Hetherington was a soldier with 51st Highland, 7th Battalion The Royal Regiment Of Scotland.
The other two soldiers were both of The Royal Highland Fusiliers, 2nd Battalion The Royal Regiment Of Scotland based at Glencorse barracks in Midlothian, near Edinburgh.
Pte Hetherington was born in the US but raised and educated in Edinburgh.
He enlisted in the Territorial Army in October 2006 and was mobilised to join The Royal Highland Fusiliers, 2nd Battalion The Royal Regiment of Scotland, for Operation Herrick 18 last November.
Commanding officer, Lieutenant Colonel Robin Lindsay, previously described him as epitomising "everything that is excellent about the reserve forces".
He said: "Private Bobby Hetherington was a thoughtful and humorous soldier who was always quick to find the fun in Army life and to keep the chain of command on our toes with his sharp wit and insightful mind.
"He was gregarious and open and this made him a much-liked and respected member of his platoon and the battalion."