Harvey Frost admits murdering Penicuik man Craig Stewart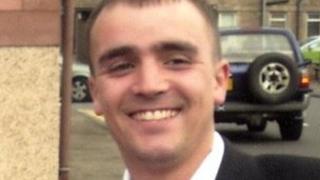 A man has admitted murdering his Edinburgh neighbour on the night he met him and said he "didn't know what came over me".
Harvey Frost, 47, hugged Craig Stewart, 24, and said "love you man" before returning from his kitchen armed with a knife and stabbing him in the chest.
Mr Stewart died in hospital eight days after the attack at Frost's home in Magdalene Drive on 10 February 2013.
Sentence was deferred at the High Court in Edinburgh until next month.
'Love you man'
Advocate depute Douglas Fairley QC said that Frost and Mr Stewart lived in next door flats but did not know each other before the incident.
Mr Stewart had been having a drink with his flatmates, Dean Robertson and Lauren Andrews, in the evening of 9 February.
He later went outside to get some air before coming back into the flat with Frost who he introduced to Mr Robertson saying: "This is my neighbour. I've just met him."
They all played cards.
Frost later stood up to go home after indicating he did not want to overstay his welcome.
Mr Fairley told the court: "As the accused was unsteady on his feet, the deceased and Robertson took him next door to his own flat."
Frost invited them in for a drink and Ms Andrews joined them.
"The accused hugged the deceased and said "love you man" and the deceased hugged him back and repeated this," said the advocate depute.
After the song ended Frost went into the kitchen. He returned expressionless but holding a knife and walked over to where Mr Stewart was sitting on a couch and stabbed him in the chest, inflicting a heart wound.
Mr Stewart underwent emergency surgery but a later scan showed features consistent with brain injury.
It was later agreed that he was unlikely to regain an independent quality of life.
Frost told police he did not know why he would do this, adding he had never done anything like it before and said: "I don't know what's came over me."
He was examined by two psychiatrists but neither found evidence to suggest that he was subject to a state of diminished responsibility at the time of the murder.
Defence solicitor advocate John Scott QC said Frost's behaviour was "totally out of character" for him.
He added: "There is no mental health issue which can explain this strange behaviour."