Torness nuclear power station re-opens to public after 9/11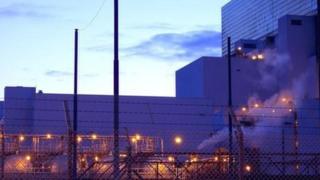 A nuclear power station in East Lothian will be opening its doors to the public for the first time since the 9/11 terrorist attacks in the US in 2001.
The new visitor centre at Torness nuclear power station, which is due to be opened later, will give access to "thousands of people", EDF Energy said.
The company, which runs the facility, says it is committed to increasing openness at nuclear power stations.
A similar facility at Hunterston B opened last August.
Torness started production in 1988. This summer marks 25 years since it opened.
EDF says nuclear generation at Torness has helped avoid 130m tonnes of carbon dioxide emissions during that time.
The environmental group WWF Scotland, however, has previously condemned EDF's nuclear power stations as "dirty, dangerous and unnecessary".
Important milestone
EDF Energy's managing director of nuclear generation Andy Spurr said: "Opening the visitor centre is an important milestone for us.
"It will enable thousands of people from the local community and beyond to see nuclear power and to learn about how we safely generate low carbon electricity for around two million homes."
Iain Gray MSP, who will be opening the centre, said: "Torness continues to play a vital role in the economy of Scotland.
"This new centre is an excellent way of connecting local residents and visitors to the working life of the power station, and also increasing understanding of the importance of nuclear power to our energy infrastructure."
The visitor centre, which features "hands-on displays" and guided tours of the power station, is the latest of seven planned centres to be opened by EDF Energy.
It will be open every day, but security considerations mean advanced booking will be required.