Cyclist Audrey Fyfe's widower lodges complaint against driver's sentence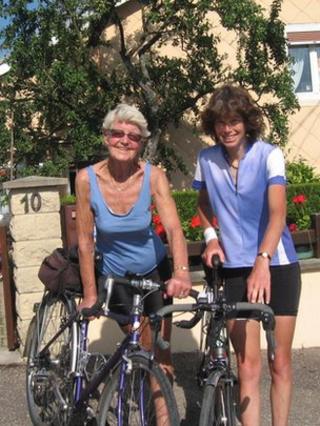 The widower of a woman killed by a careless driver has lodged a complaint against the motorist's sentence.
Gary McCourt was banned from driving for five years after being found guilty of causing the death of Audrey Fyfe, 75, in Edinburgh in August 2011.
McCourt, 49, was previously convicted of knocking down and killing cyclist George Dalgity, 22, in 1985.
Mr Dalgity's sister, Ann Dalgity, accompanied Mr Fyfe to the city's Crown Office and Procurator Fiscal Service.
Mr Fyfe said he believed McCourt should have been banned from driving for life.
At the sentencing of McCourt, the sheriff said he took into consideration that Mrs Fyfe was not wearing a helmet at the time she was knocked off her bike and killed.
Mrs Fyfe was a member of cycling group, CTC Scotland.
Rhia Weston, CTC's road justice campaigner, said: "It is debateable whether or not a helmet might have made a difference, but more importantly it is legally irrelevant.
"The sheriff's role was to sentence McCourt for the seriousness of a motoring crime which cost a cyclist her life.
"Given McCourt's previous conviction, he should have received at least a lifetime driving ban."
McCourt was sentenced to two years in jail for knocking Mr Dalgity off his bike in Edinburgh's Regent Road.