Gavin and Sean Blair jailed for Edinburgh choke attack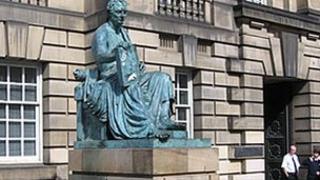 Two brothers who admitted an attack on a man in Edinburgh have each been jailed for four-and-a-half years.
Gavin Blair, 23, and Sean Blair, 25, from Livingston, went to a nightclub after the assault on Lee Clark, 23.
The soldier was punched, kicked and throttled with a belt during the assault on 30 November 2012 at SmartCity Hostel in Blackfriars Street.
At the High Court in Edinburgh, Lord Uist ordered the pair to be kept under supervision for a further two years.
He told the brothers: "You both pled guilty to a disgraceful attack on Lee Clark at a hostel in Edinburgh city centre."
Lord Uist noted that both brothers had previous convictions for assault.
He told them they would have faced six-year prison terms but for their guilty pleas.
Previous offending
Ian Bryce, solicitor advocate for Gavin Blair, said he intended to refrain completely from drinking alcohol.
He said the assault was "a serious escalation" of Blair's previous offending.
The court heard on the day of the attack Mr Clark, a soldier based at Redford Barracks in Edinburgh, had met his girlfriend Emma Aien in the city centre.
They later went to a bar in the Cowgate where they met the Blairs who knew her.
She suggested booking a room to avoid getting the last train to Livingston. All four went back to the hostel with a bottle of vodka and cans of beer.
But trouble flared after Mr Clark felt Sean Blair was being "inappropriate" with Miss Aien.
She left the room and the older brother began shouting at the soldier and threw a can which missed him.
He began punching Mr Clark and Gavin Blair joined in the assault.
Guests in a neighbouring room went to the reception area to ask staff to phone for help.
The victim suffered a perforated eardrum and bruising and swelling following the attack.