More passengers at Edinburgh, Glasgow and Aberdeen airports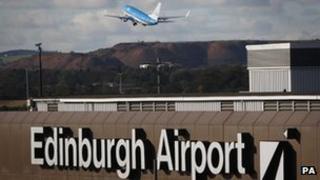 Scotland's three main airports saw more passengers last month than at the same time a year ago, new figures show.
Edinburgh Airport saw 4.4% more passengers, up 34,000 on April last year.
Almost 550,00 people used Glasgow Airport during April, up 0.4% on the same month last year.
Aberdeen International Airport reported 3.7% more passengers, although numbers in the helicopter sector were down 6.4%.
Scotland's busiest airport, Edinburgh, is continuing its return to growth after a total of 801,576 people travelled through the airport in April.
International traffic saw the biggest jump with 433,753 passengers, up 10% from the previous year.
However, domestic figures suffered slightly and dropped by 1.4%.
Summer schedule
Gordon Dewar, chief executive of Edinburgh Airport, said: "It's clear to see that April was a very busy month for Edinburgh Airport and we're delighted to see so many passengers travelling with us.
"April's passenger numbers are no doubt a result of the recent launch of Easyjet's new European routes, as well as the new flights from Ryanair and the start of Virgin Atlantic's new Little Red service to Heathrow.
"We're on course for a bumper summer season with introduction of our new summer schedule, as well as the new Air Canada Rouge service to Toronto which will launch in July.
"This is hugely exciting and will help promote Edinburgh and Scotland to a new and exciting market."
At Glasgow Airport, officials said the rise in passengers was down to strong demand for domestic and long-haul travel, coupled with Lufthansa Regional's launch of direct flights to Dusseldorf.
Wizz Air flights to Warsaw and Gdansk, which began in March, continue to prove popular.
Managing director Amanda McMillan said: "It is always pleasing to report growth and April was yet another busy month in terms of passenger numbers and route announcements.
"Outwith the launch of the new Lufthansa regional service, there were a number of positive developments.
"We received confirmation from Thomson Airways we will be the first Scottish airport to welcome the Dreamliner when it arrives in July and British Airways reaffirmed its commitment to Glasgow with the launch of its new £800,000 lounge.
She added: "Our multimillion-pound investment programme is under way and passengers will begin to notice work within the terminal, particularly in the check-in hall where we are currently creating more space as we approach the busy summer period."
Key sections of the main terminal at Glasgow Airport are being refurbished in time for next year's Commonwealth Games.
Operators of Aberdeen International Airport said the drop in numbers in the helicopter sector last month was offset by growth in domestic and international fixed-wing passengers.
The airport has also seen new Virgin Atlantic flights.