Card skimming warning for Fife cash machines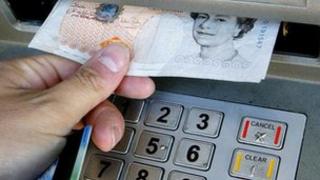 Police have warned the public to look out for card skimming devices after two were found on cash machines in Fife in the last week.
The devices had been attached to a stand-alone cash dispenser outside a shop in Tayport and to a bank branch in Falkland.
Similar devices have also been found in Dundee over the last few weeks.
Ch Insp Jill Harper has urged people to check cash machines "very carefully" before using them.
She said: "These devices are cleverly designed to blend in with the original design of the cash machines, and so may not be very easy to spot at first glance.
"It is important that all users should take a few moments to ensure foreign objects such as cameras or card skimming devices have not been placed there by fraudsters.
"Cash machine users should also shield their hand when entering their PIN number, so if there is a camera then the image will be blocked and so preventing the card from being copied.
"Finally, do not allow a stranger to 'shoulder surf' and stand close behind you when entering your PIN number. Either ask them to stand away from you, or invite them to use the machine before you."
Officers from the Fife Division of Police Scotland are examining CCTV images from the areas where the devices were found.