Hundreds take part in May Day rallies across Scotland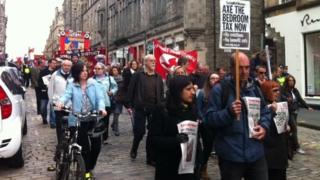 Hundreds of trade unionists, public sector cuts protesters, and anti-capitalists have staged rallies across Scotland to mark May Day.
Gatherings have taken place in Edinburgh, Dundee and Irvine, and a march is planned in Glasgow on Sunday.
In Edinburgh, protesters made their way from the Castle esplanade along the Royal Mile to a rally at The Pleasance.
Among the issues were calls to scrap trident, anger over welfare cuts and the threat of "bedroom tax" evictions.
The annual day of protest coincides with International Workers Day.