Delivery driver killed at Musselburgh Racecourse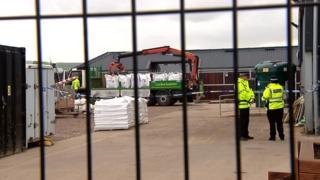 A delivery driver has died after being crushed by heavy lifting equipment being used to unload a truck at an East Lothian racecourse.
The incident took place at Musselburgh Racecourse at 09:42.
It is understood that staff saw the man, in his 50s, unloading the vehicle.
However, when they returned from a tea break they found he was caught under the machinery. It is believed that he was dead when emergency services arrived at the scene.
'Tragic accident'
The incident took place in the area behind the stables.
Musselburgh Racecourse's general manager Bill Farnsworth said: "This appears to be a tragic accident and our sincere condolences go to the family of the man concerned.
"We will give our full support to the emergency services and Health and Safety Executive in any subsequent investigation in to the incident."
A Police Scotland spokesman said officers had been called to the racecourse following a report that a man had been injured.
"The man died as a result of his injuries and a report will now be sent to the Health and Safety Executive," he said.