Scottish sales of £1m houses rise by 14%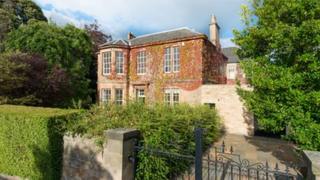 The number of homes sold for more than £1m in Scotland increased by 14% last year, analysis from the Bank of Scotland has shown.
The bank used data from Registers of Scotland to show the number rose to 151 in 2012, 19 more than the year before.
A third of all Scottish million pound property sales were in Edinburgh (50) but that was down from 61 in 2011.
Aberdeen City (19) recorded the second highest number of million pound sales, followed by South Lanarkshire (9).
Sales of houses more than £1m outperformed the rest of the market with sales under £1m falling by 6% in 2012.
However, the number of properties selling for more than £1m was extremely small, accounting for just one in every 500 sales in Scotland.
There were 72,836 home sales in Scotland last year, up 4%.
Nitesh Patel, Bank of Scotland housing economist, said Scotland outperformed the rest of Britain on million pound property sales.
There was 14% increase in Scotland compared to just 2% nationally.
London and the south east of England account for 85% of all house sales in the UK above the £1m mark.
Greater London saw a 6% rise in sales above £1m and the East Midlands 12%.
The remaining eight regions in Great Britain recorded a fall, with Wales dropping 71% to four £1m plus sales, the same as Perth and Kinross.
Mr Patel said: "While we see an 18% drop in the number of Edinburgh properties sold, the city of Aberdeen saw a very solid 46% increase over the year.
"Strong demand from wealthy cash rich buyers, particularly those associated with the oil industry, as well as limited supply has supported this segment of the market."