Pioneering Philanthropy book marks Carnegie UK Trust centenary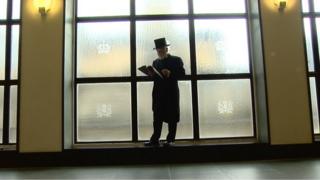 A trust established by philanthropist Andrew Carnegie has launched a book to mark its centenary year.
Pioneering Philanthropy - 100 years of the Carnegie UK Trust, describes some of the trust's most interesting and wide-ranging achievements.
The event took place at the National Library of Scotland in Edinburgh earlier.
An Andrew Carnegie look-a-like read from the book. Carnegie UK Trust was established in 1913.
Liz Macdonald, senior policy officer for the Carnegie UK Trust and author of the book, said: "The Carnegie UK Trust was set up in 1913 to promote the well-being of people in the UK and Ireland.
"It has helped contribute to so many worthwhile developments and initiatives that it is wonderful to have the opportunity to celebrate some of its achievements and reflect on how the trust has operated over its first 100 years.
"Although many people associate the trust with the building and support of public libraries, the trust has always been involved in a wide variety of initiatives: from promoting participation in the arts, and opening up access to the countryside, to its work today on lobbying for more effective regulation of the press and regenerating town centres.
"It has always been willing to experiment with new ways of doing things and been unafraid to be ahead of its time."