Funeral held for 'dedicated mum' Jennifer Rennie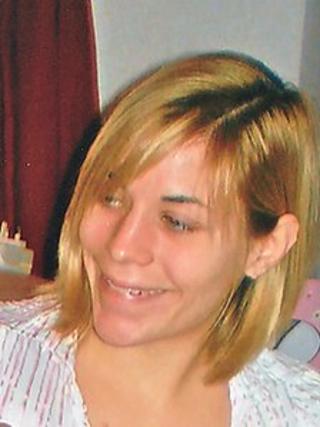 At least 150 mourners gathered at the funeral of a Fife mother-of-two found murdered in her home.
Jennifer Rennie, 26, was described as "the most dedicated mum you could imagine", who lived for her two children Violet, five, and Logan, one.
Ms Rennie, was found dead at her Rosyth home on 11 March.
Police said it is understood she was killed by her ex-partner Scott Simpson, 41, who then took his own life. His body was found in his Dalgety Bay home.
The couple's relationship ended several weeks earlier, after they had been together for about six years, police said.
Ms Rennie was laid to rest at Hillend Cemetery near Dunfermline following a service at the town's Glen Pavilion.
Her coffin was carried into the pavilion by family members accompanied by the Alicia Keys song "New York".
Her mother Silke Rennie reflected on her daughter's life, describing her as a loving mother and homemaker.
She told mourners about Ms Rennie's happy early years, spent growing up in Germany with her siblings Vanessa and Mark due to her father's job in the Armed Forces.
"Jennifer was a girl full of life and energy. She grew into the most caring girl you could imagine. She loved being a mum. Her children were her life and nothing else mattered," Mrs Rennie said.
Favourite songs
She told family and friends that Jennifer would want to be remembered as "a bonnie lass, a sparkling young woman and, above all, the most dedicated mum you could imagine".
Civil celebrant Denis Madden encouraged those present to reflect on their memories of Ms Rennie as some of her favourite songs, including Adele's "Someone Like You", were played.
He told friends and family members to think of how the "loving and caring" Ms Rennie touched their lives, adding "no-one can ever hurt (her) again".
Her father Norman Rennie spoke on behalf of her two children.
"Violet and Logan would like to say to you 'Thank you mummy for the most amazing start in life you have given us'," he said.
Following the service her coffin was carried out of the pavilion to East 17's song "Stay Another Day".