Edinburgh's Caltongate Old Town planning consent extended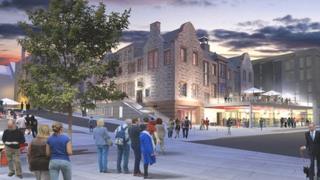 The developer behind Edinburgh's controversial Caltongate site has been given a three-year extension to its planning approval.
Developer Artisan is now legally entitled to demolish two listed buildings.
It asked councillors to take "on trust" that it would not proceed with the work.
However, residents have expressed concern that the demolitions might go ahead.
Artisan said it needed to renew the original master plan to preserve the value of the Royal Mile site and attract the investment necessary to allow the revised plans to go ahead.
However, the Old Town community council argues the original master plan is now outdated and the demolition consent should be removed.
Seven-figure sum
At Edinburgh City Councils development subcommittee councillors backed the company by 11 votes to two, granting Artisan a three-year extension to the original planning consents.
Marion Williams, director of Edinburgh's campaigning heritage group the Cockburn Association, said the planning committee's decision was one of the worst she had ever seen.
She said: "Our major concern is the developer is receiving permissions to demolish two buildings where there has been work done to prove there are viable alternatives.
"And the material conditions behind the original planning consent have changed because the economic climate in 2008 was completely different to where we are now in 2013."
An Artisan spokesman said: "Renewing the original consents is a commercial decision to protect our investment.
"If the original consents had been allowed to lapse, this would have fundamentally affected the value of the site and our plans for southern site development.
"We are pleased with today's decision to extend the consents as this means that we can now progress with bringing our new plans for the site forward, in line with our current consultation process."
South Africa-based Artisan said it intends to invest a seven-figure sum in fully revised planning and design with phased work due to start next year.
The gap site has lain empty since the original developers Mountgrange collapsed four years ago.
The site covers an area between Waverley railway station and the Royal Mile.