Scientists bid to turn power station emissions into 'solar fuels'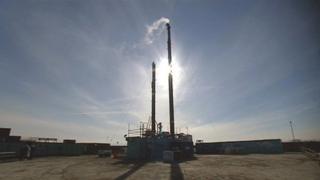 Scientists in Edinburgh are working to develop technology capable of converting carbon dioxide emissions from power stations into fuel.
They believe their research has the potential to revolutionise the global energy industry.
The process uses the power of the sun to produce what are known as "solar fuels" from carbon dioxide.
These include ethanol, methanol and methane.
The fuels could be used in the transport sector or to provide domestic heating.
Commercial scale
The technology, which is being developed at Heriot-Watt University, relies on a process called photo-catalytic reduction.
Existing photo-catalytic reduction processes do not produce enough fuel to make them financially viable.
However, the team of international scientists working in Edinburgh has won funding of £1.2m to develop a new generation of highly efficient photo-reactors.
The goal is to produce reactors which are capable of making photo-catalytic reduction viable on a commercial scale.
The research is being led by Professor Mercedes Maroto-Valer.
She told BBC Scotland: "The process we are developing here is similar to photosynthesis in plants.
"But we're taking carbon dioxide, water and solar energy and converting it into solar fuels instead of plant material.
"It is possible to do this because we have developed a series of catalysts and reactors which allow us to do this conversion in an efficient manner.
"We are working on a technology capable of turning a climate-changing gas into a climate-saving fuel."
Scientists at the University of Glasgow are also carrying out research into the production of solar fuels.
The Glasgow Solar Fuels team says its aim is to develop new energy sources which are both environmentally benign and abundant in supply.
The researchers at Heriot-Watt University acknowledge a huge amount of work remains to be done before the technology they are developing can be deployed commercially.
But major energy companies are following developments closely.
One of the world's leading scientists has told BBC Scotland the research underway in Scotland demonstrates that reducing the effects of climate change will provide important opportunities for forward-thinking businesses.
Dr Rajendra K Pachauri is the chairman of the UN's Intergovernmental Panel on Climate Change.
During a visit to Heriot-Watt University he said: "The big opportunities are to get into technology areas which are going to be the solutions of tomorrow.
"The sooner industry exercises its vision, and takes into account how the world is going to change towards a new technological future, the better off they will be".