Dalgety Bay radiation: MPs to debate clean-up delays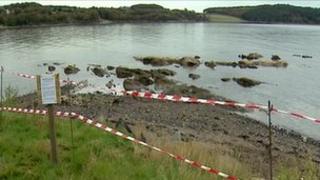 MPs are to discuss the delays to the clean-up of Dalgety Bay in Fife, where the beach has been closed because of contaminated radiation particles.
The debate was secured by the local MP Gordon Brown.
The former prime minister is leading the campaign for the clean-up of the beach, where 3,500 radioactive particles have been found.
They are understood to come from instruments from World War II planes that were buried close by.
Mr Brown has criticised the Ministry of Defence for the delay in the clean-up.
He said the particles present an "undeniable hazard" for those living in the area.
The Scottish Environment Protection Agency has embarked on an investigation of the beach area. Its report is due later this year.