Wind farm approved with conditions in East Lothian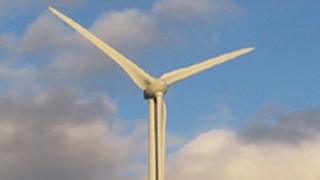 An East Lothian wind farm which could provide power for 32,000 homes has been given the go-ahead.
However, Energy Minister Fergus Ewing has imposed conditions to limit its impact on the environment, including cutting the number of turbines.
The Aikengall II wind farm, which will be sited south of the East Lothian village of Innerwick, is now expected to have 19 turbines.
It is three fewer than developer Community Windpower hoped to install.
The level of noise the turbines can create has also been limited.
Construction of the wind farm is said to be creating about 100 jobs, while its operation will see five permanent jobs.
Up to 68.4 megawatts of electricity could be produced on the site.
Environmental impact
Mr Ewing said: "The Aikengall II wind farm will create jobs both in its construction and during its lifetime, as well as having the capacity to supply more than 32,000 homes with renewable electricity and displace around 77,000 tonnes of carbon dioxide emissions annually.
"The development will lead to £98m of capital investment, mostly spent in Scotland. The turbines for the development will be constructed in Campbeltown.
"In consenting the application, I have put a number of conditions in place to protect local wildlife and to minimise environmental impacts including to set noise limits for the wind farm."
The wind farm is the 79th energy project the Scottish government has considered since May 2007.
Of these 56 have been for renewable energy projects including 32 onshore wind farms, of which ministers have refused planning permission for six.
Another 46 applications are being considered, 44 of which involve renewable energy projects.