Forth Road Bridge: Cable corrosion problems 'resolved'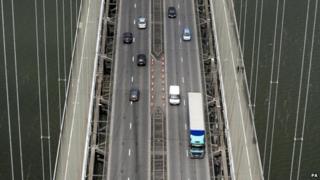 Corrosion problems on the Forth Road Bridge appear to have been resolved, engineers have found.
A system to stop wires cracking in the suspension cables has greatly reduced concerns about their future safety.
This is the first inspection report since a dehumidification system was installed on the bridge cables four years ago.
But Transport Scotland said the improvement did not mean a new Forth crossing was no longer needed.
The latest inspection report on the repair work from chief engineer and bridgemaster Barry Colford concluded: "The results of the inspection appears to demonstrate that the rate of deterioration of cable strength has been reduced and the factor of safety against failure of the cables has not materially diminished.
"This is giving strong comfort that the newly installed dehumidification system is retarding the corrosion of the bridge wires."
New Forth crossing
A spokesman for the Forth Road Bridge said this had given them optimism that the lifespan of the cables had been greatly extended.
They now believe the cables will remain safe for as long as the dehumidification process keeps working.
Concerns over the suspension cables were a factor in the decision to build a new £1bn Forth crossing, which is due to open in 2016.
Green MSP for Lothian Alison Johnstone suggested: "This report removes the central justification that the SNP made for blowing over a billion pounds on a new bridge.
"The Scottish Greens were the only party arguing strongly that repairing the existing bridge, even if the cables had to be replaced, would have cost a tiny fraction of the price and with no closure of the bridge.
"Those who wanted to see if the repairs worked before blowing billions on a new bridge were the responsible ones, while other parties charged recklessly ahead.
Still essential
"The Scottish government must keep their promise to restrict use of the existing bridge to buses, bikes and pedestrians, otherwise they will simply have created an eight-lane motorway over the Forth, encouraging ever more traffic and congestion coming into Edinburgh."
However, government agency Transport Scotland said the replacement for the Forth Road Bridge was still essential.
A spokesman added: "Cables will need to be continually monitored and inspected for the remainder of their service life and damage already done to the wires inside the cables cannot be repaired.
"The most disruptive maintenance project in the bridge's history has already been put on hold and, without an alternative crossing, this would have caused unprecedented disruption to traffic and the economy over an extended period."
Meanwhile, Transport Minister Keith Brown has said he was "puzzled" by claims that Edinburgh taxpayers could be hit with a multi-million pound compensation bill for roadworks leading to the new Forth road bridge.
Transport Scotland said the Forth Estuary Transport Authority (Feta), fully funded by the Scottish government, was liable for any compensation claims received.