Third of patients at Liberton Hospital struck by norovirus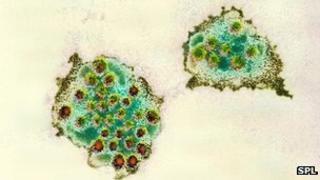 A third of patients at an Edinburgh hospital have been affected by an outbreak of norovirus.
NHS Lothian has closed eight out of nine wards to new patients at Liberton Hospital.
The health board said 51 patients have been confirmed as having the virus since the start of the outbreak at the end of January.
Patients' friends and family have been advised them not to visit in an attempt to halt the spread of the infection.
NHS Lothian said 17 staff members have also been hit by the bug.
Ingolfur Johannessen, consultant medical virologist at NHS Lothian, said: "A large number of patients at Liberton Hospital are affected by norovirus with a significant number testing positive for the virus.
"We have taken the decision to temporarily restrict visitors in a bid to prevent the further spread of the infection and to ensure the hospital returns to normal working as soon as possible.
"By restricting the number of visitors it is hoped that this will reduce the number of people who are exposed to norovirus and therefore shorten the duration of the outbreak."
Norovirus is highly contagious and outbreaks spread quickly in places like hospitals and nursing homes.
The symptoms include vomiting, diarrhoea and nausea.