No 'salami slicing' budget for Fife Council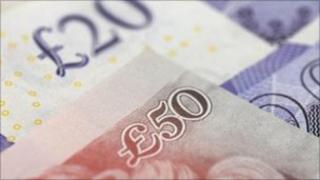 Fife Council's leader has said the days of "salami slicing" budgets were over as he announced £66m in savings to be made over the next three years.
Alex Rowley said "unfortunately" there would be job losses but he would make every effort "to manage the impact on employees consensually".
Councillors earlier agreed their budget for the next year, freezing council tax for a sixth year in a row.
Fife Council's freeze sees band D costs remaining at £1,118.
The budget outlines plans to invest £900m over the next 10 years in roads, schools and communities, with £10m earmarked for a new Waid Academy and £22m to fund care homes.
There will be £12m of investment in 2013-14 in youth employment, support for families and early years, and help for small businesses.
'Quid for kid'
The living wage is to be introduced for almost 2,000 of the council's lowest paid workers.
There has been £5m set aside to create training and apprenticeship places and home care charges have been scrapped in the new budget - a move that will cost the council £300,000.
A total of £3m will be given to the social work department to help ease pressure on the service and support preventative work, and £2.5m for education services.
There is also £1m to help regenerate Dunfermline town centre as well as a £500,000 town centre investment fund to boost other Fife towns.
New posts
Under the new budget, free swimming for children through the summer holidays will be re-introduced and there will also be "quid for a kid" access to sports facilities at weekends.
Alex Rowley, Fife Council's leader, said: "I'm very heartened by the way politicians, local groups and people from across Fife have come together over the last few weeks and months to discuss our budget proposals when we took the step of making them public for the first time back in November.
"The consultation was very positive - we've taken a lot of what was said on board - we've put more money into our roads network, we're giving area committees funding for youth activities, we're creating four new posts to tackle environmental issues including dog fouling and littering in local areas, and we've had very positive discussions with both the Cultural Trust and the Sport and Leisure Trust about how we can work together better in the future.
"It's also important to note that both trusts have given an assurance that no facilities will close as a result of our funding decisions.
"Unfortunately there will be job losses as a result of today's decisions. However, every effort will be made to manage the impact on employees consensually.
He added: "The days of "salami slicing" budgets are over."