Teen killed in road crash on A91 in Fife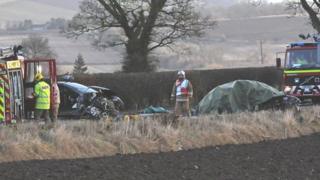 A teenager has been killed and a woman seriously injured in a crash in Fife.
Two cars collided on the A91 near the Scottish Deer Centre at the Bow of Fife at 07:49. The road has been closed for a police investigation.
The 18-year-old man was driving a Peugeot 206 and the woman, 51, who is being treated at Ninewells Hospital in Dundee, was in a Peugeot 207.
The stretch of road between Auchtermuchty and Cupar has been closed.
A third car was also caught up in the debris from the crash.
Insp Brenda Sinclair, of Fife Constabulary, said: "This is a tragic loss for this young man's family and I appeal for anyone who may have information about this accident on the A91 Bow of Fife just before 08:00 to contact the police.
"Drivers may have seen these cars on the A91 this morning and I would encourage them to let us know any details they may have."