Leith Waterworld: Splashback community bid given more time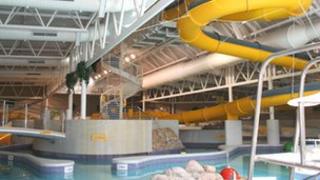 A community group bidding to operate Edinburgh's only swimming pool with flumes has been given more time to work out a feasibility plan.
Campaign group Splashback is being given £100,000 from Edinburgh Council to help fund the feasibility study.
Leith Waterworld closed last January with annual losses of £350,000.
Campaigners had a plan to run the facility rejected in September, but the city council gave them more time and help to submit a new proposal.
At a full council meeting on Thursday, councillors voted against a report recommending that the property be remarketed for sale and gave Splashback another 11 months to work out a plan.
The council has also agreed to a dedicated councillor/officer to help Splashback develop its bid.
It now needs to apply for grants and lottery funding and have its business plan approved by an independent third party to pass council stipulations to continue with the project.
Next phase
Richard Lewis, Edinburgh City Council's culture and leisure convener, said a report on the results of the study would be considered by councillors once the development phase ended, following which a decision on the facility's future would be taken.
"I want to acknowledge the considerable time and effort that Splashback have committed to their bid thus far," he said.
"While there remains a tremendous amount of work to be done in the months ahead, we want to give the community the best possible chance of success by providing the necessary funding and support toward taking their proposals to the next phase.
"We owe it to the people of Edinburgh to do everything we can to preserve this valuable community asset."
Chas Booth, Green councillor for Leith, said: "I am delighted the council has seen the wisdom of backing community ownership of this much-loved asset and has seen the social, health and economic benefits of re-opening the pool.
"We now have a period of almost a year to finalise the business case and get children and other pool users back in the water."