Nicolson Street police stop-and-search: Eight arrested in Edinburgh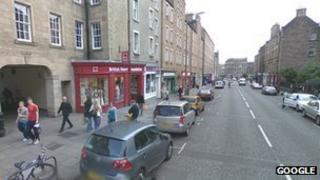 Police have made eight arrests after a 48-hour operation to tackle crime in Edinburgh.
Officers carried out almost 80 stop-and-searches in Nicolson Street and the surrounding areas in the southside of the city, starting on 8 December.
Two men aged 25 and 31 and a woman, 40, were charged under the Misuse of Drugs Act after police recovered quantities of diazepam and cannabis worth £450.
They are all due to appear in court later.
During Operation Docket, plain-clothes officers and high-visibility police patrols also arrested four men - aged 20, 22, 25 and 30 - and a 37-year-old woman for a variety of alleged warrant offences, such as failing to appear in court.
Extremely positive
Det Insp Stuart Harkness, of Lothian and Borders police, said: "Operation Docket was launched in response to ongoing crime in the Nicolson Street area, which had a negative impact on local residents and businesses.
"The presence and activity of police within the area sent a clear message to the community that we continue to listen to their concerns and address them accordingly.
"It should also serve as a reminder to criminals operating in the area that, whenever we receive intelligence relating to crime, we will respond swiftly and robustly to bring those responsible to justice.
"Our engagement with the public during Operation Docket was extremely positive and, as well as offering advice and guidance on crime prevention, we were also able to gather vital intelligence that will help with our policing of the southside area."
Over the two days, officers also carried out inspections of various local licensed premises in the area to detect criminal activity and ensure staff were adhering to the terms of their licences.