Woman, 85, knocked down in hit-and-run in Morningside Grove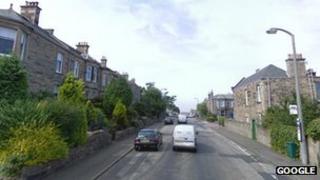 An 85-year-old woman is being treated in hospital for serious injuries following a hit-and-run as she crossed a road in Edinburgh.
The woman is being treated in the Edinburgh Royal Infirmary after being knocked down at 18:00 on Friday in Morningside Grove.
She was crossing the busy road near the junction with Craiglea Place when she was hit by the vehicle heading north.
She had just got off the number 23 bus in Morningside Grove.
She is being treated for multiple fractures and remains in hospitals.
Lothian and Borders Police is urging the driver and witnesses to come forward.
Alternative options
Lesley Hinds, Edinburgh City Council's transport convener, said: "This was a dreadful accident made all the more upsetting by the sheer cowardice of the driver, who failed to stop at the scene.
"My thoughts are with the injured lady and her family. The council has been working with the local community for some time now to try and find a way of managing traffic on Morningside Grove - in fact, transport staff have a meeting scheduled with community representatives later this week.
"Unfortunately, Morningside Grove is a particularly challenging location for traffic control measures because it is located on a hill with steep brows on each side, giving drivers little time to slow down or stop.
"As well as the provision of pedestrian crossing facilities, we are also considering alternative options such as relocating bus stops to make it easier to cross the road along the whole length of Morningside Grove."