Stephen Gilmartin jailed for hacking off finger and flushing down toilet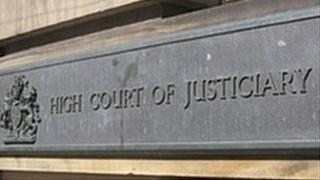 An armed intruder who hacked off part of a man's finger in his Fife home before it was flushed down a toilet has been jailed for four years.
Stephen Gilmartin barged into the Glenrothes home of James Grieve, 35, with a homemade weapon and hit him.
Gilmartin, 40, from Cupar, originally faced a charge of attempted murder following the assault on 12 April 2012.
Gilmartin admitted assault to severe injury, permanent impairment and disfigurement.
Advocate depute Pino Di Emidio told the High Court in Edinburgh that the pole-like weapon had a blade taped to the end and was described as "an old-fashioned lopper".
Scalp cuts
A judge told Gilmartin: "You pled guilty to an offence involving a very serious assault perpetrated by the use of a wicked and extremely frightening weapon."
Lord Turnbull told him that he would have faced a five-year prison term but for his guilty plea.
Mr Di Emidio told the court that while it was unclear who actually flushed the partially severed digit away, the accused Gilmartin instructed it to be done.
Mr Grieve was taken to Kirkcaldy's Victoria Hospital for treatment to his multiple wounds.
The prosecutor said one wound to his leg had exposed bone and he had three scalp cuts with the skull exposed below.
A nerve also had to be terminated following the partial amputation of his left little finger.
Police went to unemployed Gilmartin's home in Cupar and during a search found a bladed weapon in a bin bag next to a shed.
Defence solicitor advocate Chris Fyffe said Gilmartin "deeply regrets his behaviour".